Applies to: Mobile Mapping System M3 incl. processed data (.nvd file format), IndoorViewer/IVION
Problem description
M3 support and services have been discontinued in December 2021. However, you might still have M3 datasets, from projects done in the past or from your still functioning M3, that you want to present in a recent IVION instance.
This article will explain the downsides of still using M3, how to assess the quality of M3 compared to M6 and VLX, and how to bring M3 data into IVION.
M3 software setup
The latest M3 system software version was provided by NavVis in March 2020 with v2.5.1. This system software version runs on Ubuntu 14.04, which is no longer supplied with free security updates and bug fixes by Canonical since April 2019. The latest Desktop Processing Software was released by NavVis in March 2021 with v2.8.2, and it is separated from software versions compatible with M6 and VLX. This means that the M3 is not capable of any features released after these dates for NavVis Mobile Mapping Systems and can no longer be called a state-of-the-art system, neither with respect to system performance nor to data quality.
Data quality and structure
As opposed to M6 and VLX, M3 devices are still running on a SLAM algorithm with three degrees of freedom (3 dof). This means that these devices are not able to handle scanning on any kind of stairs, steps or ground level ascents. Mapping such an environment will necessarily lead to SLAM breaks and drifts, which cannot be corrected. Additionally, M3s from the batches 1 to 7 (M3-1-X to M3-7-X) are not equipped with laser sensors for capturing control points/anchors. Data optimization and georegistration of the data is therefore not possible.
Compared to data captured with M6 or VLX, M3s also provide less accuracy and worse coloring in point clouds as well as less panorama quality. Due to the differing arrangement of sensors, the area covered by sensors, the resulting point cloud density, as well as the panorama stitching, are also expected to be limited in quality.
For small office environments, NavVis expects a point cloud accuracy of only ~2+cms at best. This accuracy decreases the further in the past the M3 has been calibrated. As a company longing to supply the industry with the best data quality possible, we can therefore no longer recommend to make use of the M3 when doing scanning projects in 2022 or later. We also recommend to rescan sites, which were once captured with an M3, with an M6 or VLX instead, in case the project's data is still actively used.
The raw datasets captured with the M3, as well as the processed ones constructed from it, also differ in structure and folder content from recent datasets of M6 and VLX. It can therefore be assumed that third-party tools do not support this type of data anymore.
Use in IndoorViewer or IVION
If M3 data still needs to be imported into a recent IndoorViewer or IVION instance, please consider the strategies described here.
Strategy 1: Importing
.nvd

files to IndoorViewer or IVION

If you still possess the .nvd files, which are constructed after post- and then web-processing M3 data, simply upload the .nvd file to the IV/IVION instance/site by using the "Upload bundle or dataset" function under Datasets Maagement :

This will trigger an instance-internal re-processing of depth maps. Thus, after uploading them, you can see in the Task Manager a task for Dataset Upgrade running. This process can take several minutes to finish depending on the dataset's size.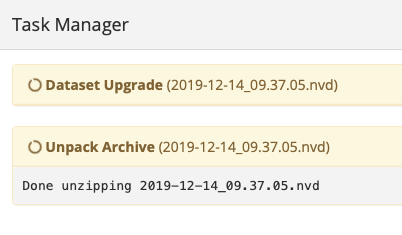 Once the Dataset Upgrade has finished successfully, the upload status will turn green and notify the user with the message "Upload and processing done".
The dataset can now be added to the instance or site.
Troubleshooting
If the .nvd file upload fails, please click on the failed task in the Task Manager to see more details regarding the failure. There could be an error due to lack of RAM, especially for IndoorViewer/IVION users with a local on-premise installation of the software. This is depending on how much RAM is reserved for the Indoorviewer/IVION application and how big the M3 dataset is. 
The error message in the Task Manager will look like this:
NavVis Depthmap Densifier
nv_depthmap-densifier - Copyright (c) NavVis GmbH 2019, http://www.navvis.com
 
Software Version: 2.14.1-b14445-14b4de84-bionic-release-2.14.1 (14b4de84c4c184cb32b54f40569d3693b90c373d)
----------------------------------------------------------------------------
 
[ INFO] Dataset format is WEB.
 
[ INFO] Start densifying depth maps...
[ INFO] Densify depth map 00000 ... 1/154
[ INFO] Densify depth map 00001 ... 2/154
 
There was an error while running the processing tool (137). Possible reason: out of memory.
In this case, please increase the available RAM on your desktop machine or switch to IVION on Navvis Cloud for better performance.
Strategy 2: Recreating
.nvd

files from raw data

If only the raw data in the folder datasets_rec has been preserved, the data needs to be reprocessed (both post- and web-processing) to create the necessary .nvd files. To do this, an installation of the M3-specific Desktop Processing Software is necessary. If this needs to be reinstalled on your local workstation, please refer to this article.

Please be aware, that on M3 devices, post- and web-processing can indeed still be executed on the device itself. Check the UI of the device to start processing from the device's internal SSD. Once you have gained access again to an M3 .nvd file, please proceed with strategy A from above.