1

Introduction

In July 2023 we will be introducing a new "Inspection and Maintenance" service that can be booked as part of all Repair and Maintenance Services for VLX and M6.
1.1

Purpose

The following sections describe changes to NavVis' offering of Repair and Maintenance Services, the improvements they bring and what the new service process looks like.
1.2

Scope

Applies to all NavVis Devices VLX 1 + VLX 2 + VLX 3+ M6
2

Overview of Changes

All device services will be combined under a single offering of "Repair and Maintenance" services, executed at NavVis headquarters in Munich.

Each such service is comprised of different items which are either mandatory or added as required for a specific device: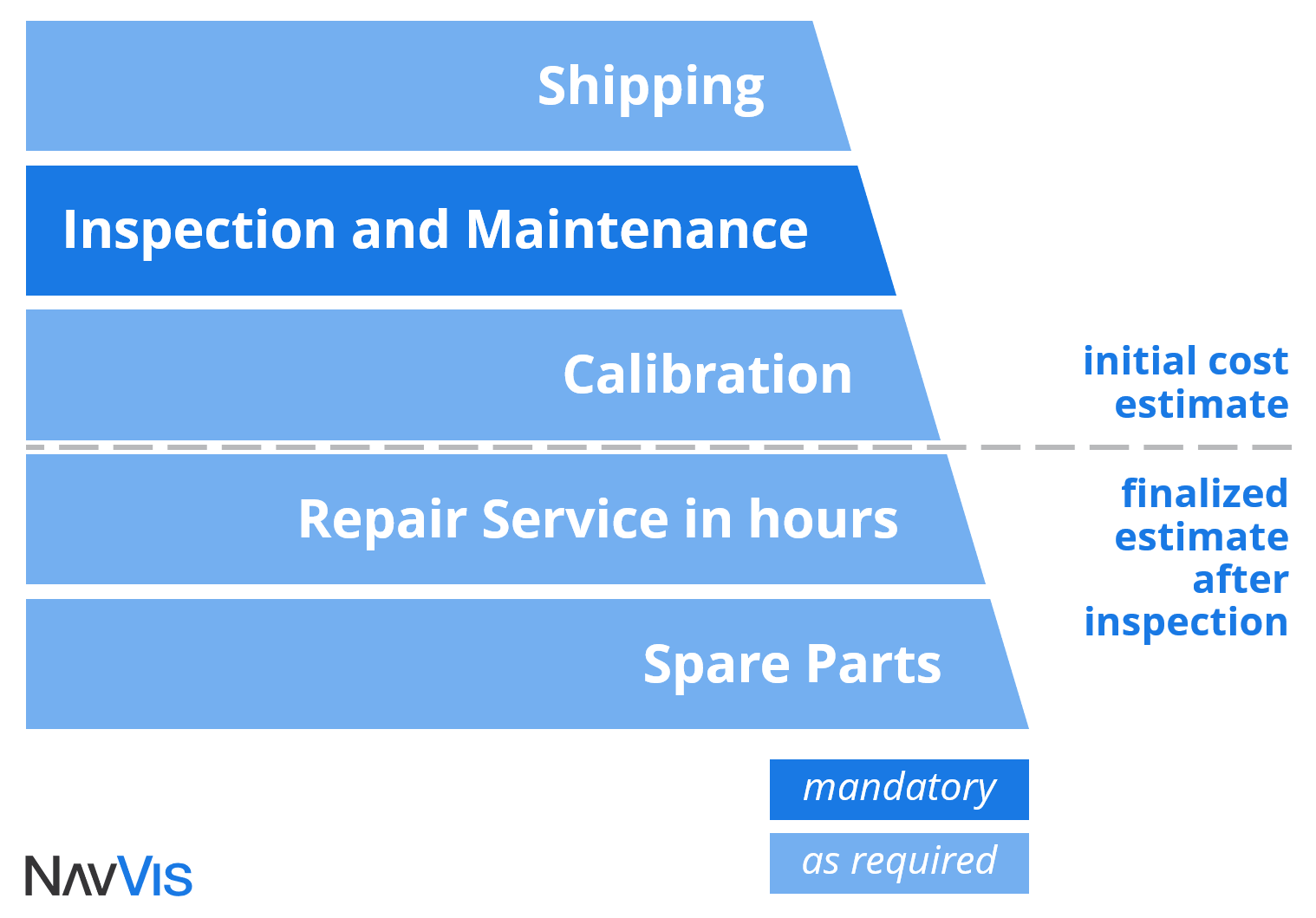 Note: Effective 1st July, the so called "Hardware Check-Up Service" for VLX or M6 will be retired. Services ordered before June 30th 2023 will be executed as promised by NavVis..
3 Improvements
The new process to initiate and execute Repair and Maintenance services for NavVis devices comes with significant improvements.
Within the service process the following steps will be adapted:

3.1

Speed up of general cost estimates

Independent of any repair needs of a specific device, when contacting NavVis Support you will be provided with a standardized quote including potential shipping costs based on your region, Inspection and Maintenance costs as well as the costs of calibration, if required or requested.

Once this quote is accepted and the basic service is ordered, the shipping coordination can be started immediately without the need for any further debugging or remote inspection of the device.

Overall, this reduces the time for upfront service coordination as well as the need for intense hardware debugging to correctly estimate all costs upfront.

Before performing a physical inspection at NavVis HQ, NavVis can only provide approximate prices for clearly identifiable sensor damages upon request via email.

Note NavVis reserves the right to propose to execute smaller repairs without the need for calibration remotely, by sending a spare part or calling the device into a local NavVis office.

On most occasions this method of service reduces device downtime significantly, given that durations for global shipments have increased within the last years.
3.2 Improved accuracy of cost estimates
The newly introduced Inspection and Maintenance item includes an inspection for damages or component failures that reduce device performance or data quality. Also included are the following:
Check of electrical components, connections, and mechanical parts.
Cleaning of sensors, interior of the device, filters, and device boxes.
Test mapping to evaluate device performance, collision detection and UI responsiveness to user interactions and internal signals.
Installation of available software updates. (An active System Software license is required.)
Accordingly, damages and component failures will be detected early on in the service process and will result in a finalized quote, which will include service hours as well as spare parts needed to repair identified defects.
Note: Repairs of defects are executed and charged in accordance with NavVis GTC sections 7. and 8. on warranty and non-warranty repairs (https://www.navvis.com/hubfs/documents/GTCD.pdf).
4

Reference
5

Further support

If you have further questions around this topic, please contact your Channel Sales Manager or Customer Success Manager at NavVis.

To initiate a Repair and Maintenance service for one of your demo devices or an end client's device, contact support@navvis.com, where our Support Team will assist you technically and provide you an offer accordingly.